#News
#Tech Insights
#Technology
Coronavirus Cyber Security for Management Template for CISOs
The Coronavirus crisis introduces critical operational challenges to business continuity, placing high stress on organizations' management. As a result, CIOs and CISOs face a double challenge on the cyber risk front – apart from the new risks that the mass transfer of employees working remotely brings, capturing the management mindshare for further investments in security becomes harder than ever.
The Definitive Corona Cyber Security for Management PPT template provides security executives with an easy and intuitive tool to present management their existing security posture and translate it to tangible business risk, as well as making the case on how to address gaps if such exist.
From the CISO perspective, it's hard to understand what there is to explain – working remotely equals a mass increase in remote credential theft attempts. Monitoring for malicious remote connection to critical resources becomes extremely hard, if not impossible.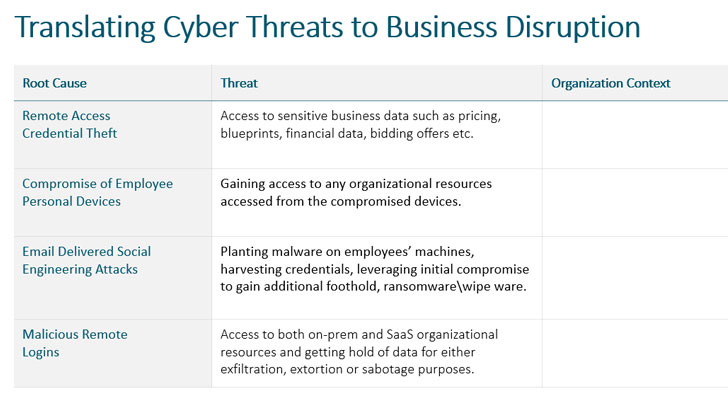 Employees working from personal devices at home are vulnerable to malware and phishing attempts. So, it should go without saying that immediate action – and resources – are required to level up the cyber protections to meet the new reality, shouldn't it?
Unfortunately, in many cases, it's not.
The intuitive connection CISOs make between, for example, malicious remote login and critical business risk is not something executive management typically make, nor the relationship between the resources it takes to proactively address this risk and the ones required to overcome the possible – or probable – breach that would stem from this unattended exposure.
So, together with identifying the new risks, it's imperative for the CISO to communicate them to the executive management in a way that would make it crystal clear that the subject is not technology but the organization's operational continuity. The discussion should be about the level of risk the organization can contain, making any decision on additional resource allocation the outcome of the discussion rather than its core subject.
The Corona Cyber Security for Management PPT template (download here) was built by Cynet to assist CISOs with this task and ensure that they are equipped with the best tool to communicate the Coronavirus related cyber risks to their executive management. The PPT includes:
A high-level list of the threats that either emerge or increase due to the Coronavirus quarantine.
Mapping of these threats to tangible business risks.
Mapping of current security technologies in place to the new threats, showing which are addressed and which are still effective.
Facts and figures on the security team operation showing in what manner did it change during the Coronavirus period.
Found gaps, prioritization, and suggested alternatives for a solution.
Naturally, there is no one size fits all, and the cyber risk of one organization never resembles the risk of another.
Thus, the template is built in a modular form, so any CISO can easily adjust it to his or her needs.
However, regardless of any custom modification, in all variations, the template follows the theme of discussing business risk rather than just technology
Culled from KERBOROS E-magazine